In Malta, Easter has always been a very important event. Festivities are spread over 3 weeks between palm Sunday, Good Friday and everything else. But as we also all know there are also lots of fun things associated with Easter, like our traditional Figolli, chocolate bunnies, decorated baskets, and of course a huge array of spring flowers.
Easter brings with it beautiful sunny weather and hope for a fun filled social life as well as rebirth, symbolised by cute yellow baby chicks and other baby animals. Sending flowers to family and friends for easter is also part of the tradition, But how do you pick the right one?
Bouquets of spring flowers typically include Iris and Freesia, but you can also send matthiola, roses, anthirinium, gerbera, brassica and even orchids and other live plants.
How to Choose the Best Flowers to Send for Easter
The best flower to send can vary from year to year since Easter doesn't have a fixed date on the calendar. This year Easter falls on April 9.
Once you have the right date, the next step is to choose the flowers that are at their peak at that time of the year to ensure the recipient can enjoy them for the longest time possible. Typical Easter colours are shades of yellow, pink, and Purple, but you can stretch this to include peach, coral, white, and other soft colors as well. Sometimes it's easier to pick a bouquet based on the type of flower. Let's take a look at the best flowers to send for Easter in 2023.
Iris
Matthiola
Freesia
Anthirinium
Gerbera
Roses
Brassica
Mixed Bouquets of all the above
Live Plants
Iris
Iris are traditional Easter flowers and are perfect for gifting to a loved one. They also have a spiritual and religious meanings as well. If you head to our Easter section you will find plenty of bouquets and arrangements containing this beautiful Scented flower.
Iris in a bouquet will typically last for a week or two. The water in the vase should be changed every few days, and they should be kept away from direct sunlight. Always add a teaspoon of bleach to your water to keep it free from bacteria.
Matthiola
Matthiola flowers are the epitome of spring, with a range of bright colors, including fuchsia, pink, lilac, and purple as well as white and peach. These flowers have a lovely fragrance and an equally lovely meaning. They symbolise happiness for long life and they also depict beauty that will never fade. It is also a symbol of spiritual purity. They can last up to 10 days with proper care.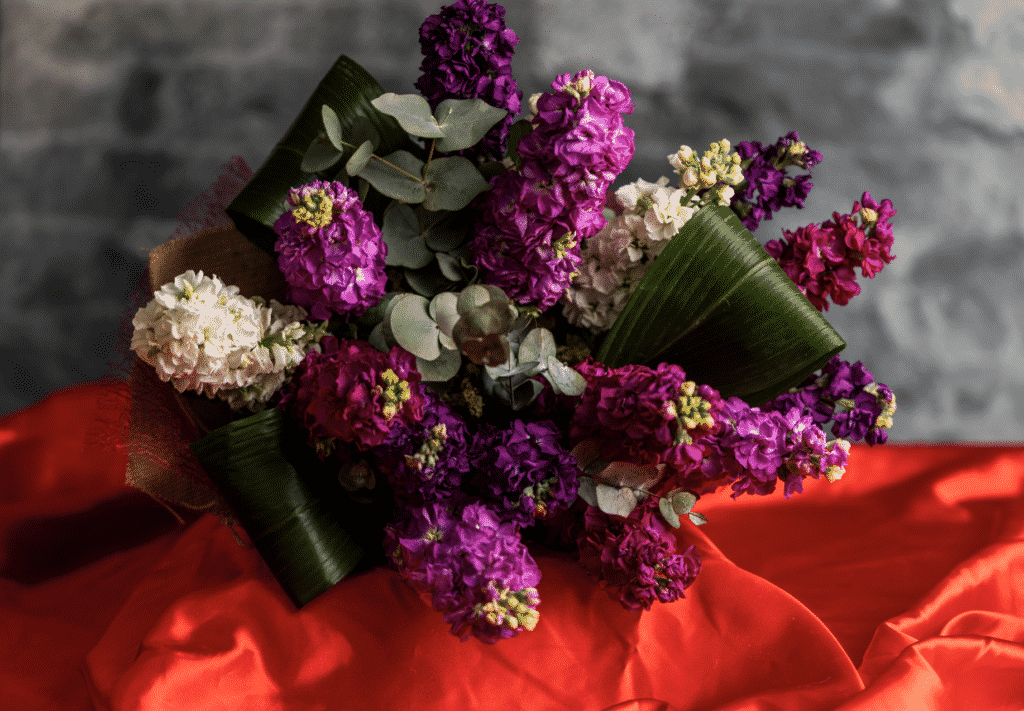 Freesia
Like Easter eggs, bunnies and baby chicks freesia are an essential part of the season when the world reawakens itself to light and warmth after a long winter.
Freesia make a cheerful gift by themselves or paired with other flowers and green sprigs. A mixed freesia bouquet with brings together the best of the season. It is also the perfect flower to gift a friend since it symbolises friendship.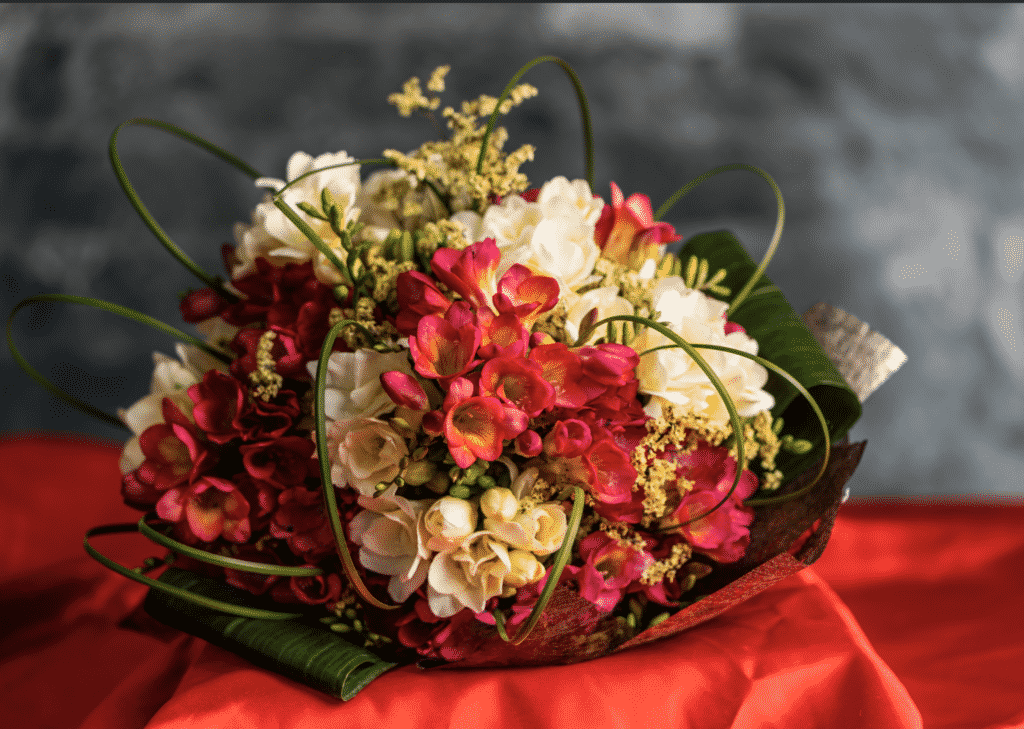 Anthirinium
With their bright colors, delicate petals, and unique shape Anthirinium, or as they are known locally snapdragons are always a good choice for a bouquet.
Mixed with other flowers this beautiful flower will leave you feeling charmed and in a good mood.
Gerbera
The gerbera is a happy flower – whenever you see a gerbera you cannot help but smile. This cheerful flower has different meanings in different cultures. In the 1800s people believed that the gerbera symbolised a closeness to nature and devotion to the sun. Generally, gerberas symbolize innocence, purity, cheerfulness, and loyalty.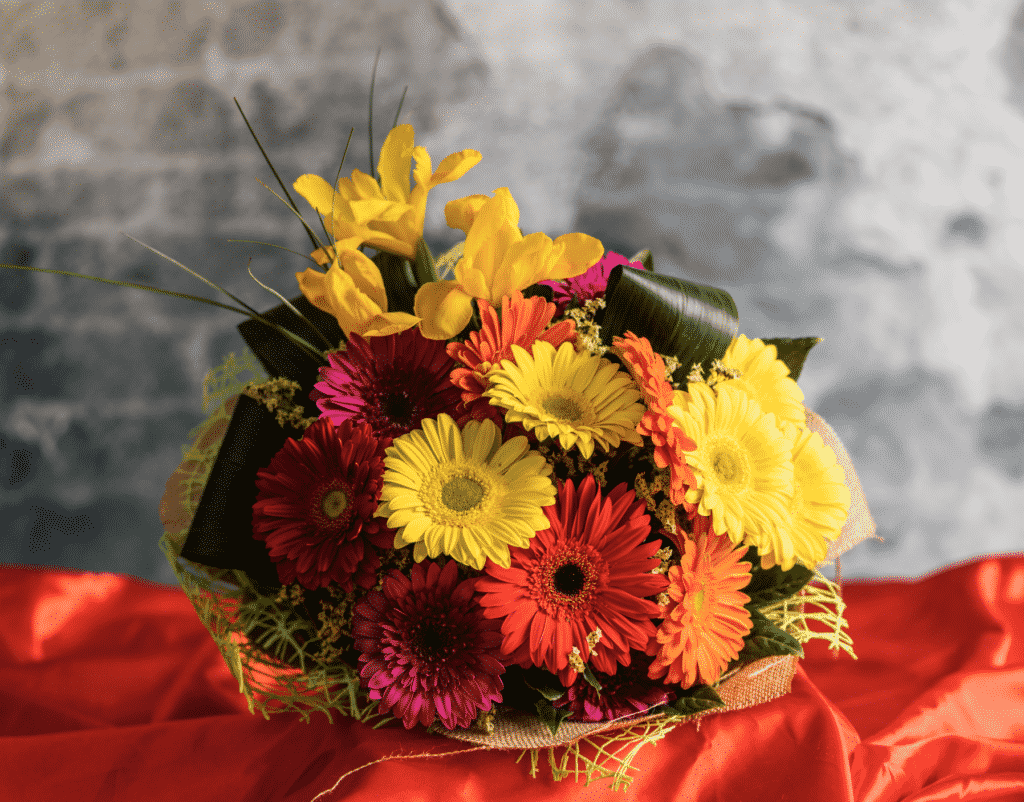 Roses
Roses are always a good choice. Everyone loves receiving roses at all times of the year and different colors carry different meanings.
Mixed Bouquets
Most of our bouquets contain mixed flowers we even developed an Easter section containing a mix of all the flowers mentioned above. So do check it out and bring a smile to your loved ones faces with our beautiful flowers.
Live Plants
Plants may not be typical Easter gifts, but a plant will always be a welcome gift in any home. Easy-care plants like the bromeliad and san severia are always a good choice and lets not forget about a beautiful yellow orchid to bring a delicate feel to its surroundings.
Flowers are an essential part of Easter traditions, but it can sometimes be difficult to pick the best ones to send when there are so many to choose from. But here at themaltaflorist we can help you with any of your floral needs.