Did you know that certain plants and flowers can actually be dangerous for your cat? So, what flowers are safe for cats?
We have 4 felines in the house so we try and make sure that if we have any flowers in the house they are safe for cats – since as I am sure you know cats are curious by nature.
Not all plants and flowers will have the same level of toxicity; as some may cause a mild stomach upset, whilst other flowers will be more toxic for cats.
It's also important for cat parents to know that plants and flowers have different effects on cats and dogs. In fact, lilies can result in kidney failure in cats, but only cause mild stomach upset in dogs.
If you like to buy flowers and plants or if you are buying a gift for someone who is a cat parent please go through this list to see what flowers are safe for cats.
What Flowers Are Safe for Cats
Avoid bringing dangerous flowers into your home with this list of safe flowers for cats:
Roses
Alstroemeria
Freesia
Gerbera Daisies
Aster
Hibiscus
Lisianthus
Orchids
Statice
Cornflower
Sunflowers
Snapdragon
Wax Flower
Lilac
Zinnia
Foliage That Is Safe for Cats
As you know many bouquets come embellished with foliage. And unfortunately, most foliages are actually toxic to cats. The following are a few safe foliages
Fatsia
olive leaves
Panicum
Aspidistra
Tree Fern
Cotinus Royal purple
Rosemary
Flowers that are highly toxic to cats
Unfortunately some of the pretties and most popular flowers can be highly toxic to your feline friend. Many of these can cause vomitting, diarrhoea and also kidney failure in your cat. So its important to be aware of this. The list includes:
Lilies
Tulips
Amaryllis
Daffodils
Chyrsanthemums
Iris
Gladioli
Hyachinths
Cyclamens
Foliage toxic to cats
The following foliages are highly toxic to cats:
Ruscus
Eucalyptus
Thlaspi
Bay leaf
Something to be aware of is that most flower bouquets come with a sachet flower food to keep them fresh, and this can be toxic to cats. Since many cats like to drink from vases either make sure the vase is a heavy oone that the cat cannot topple over or that the water is not too high for them to reach.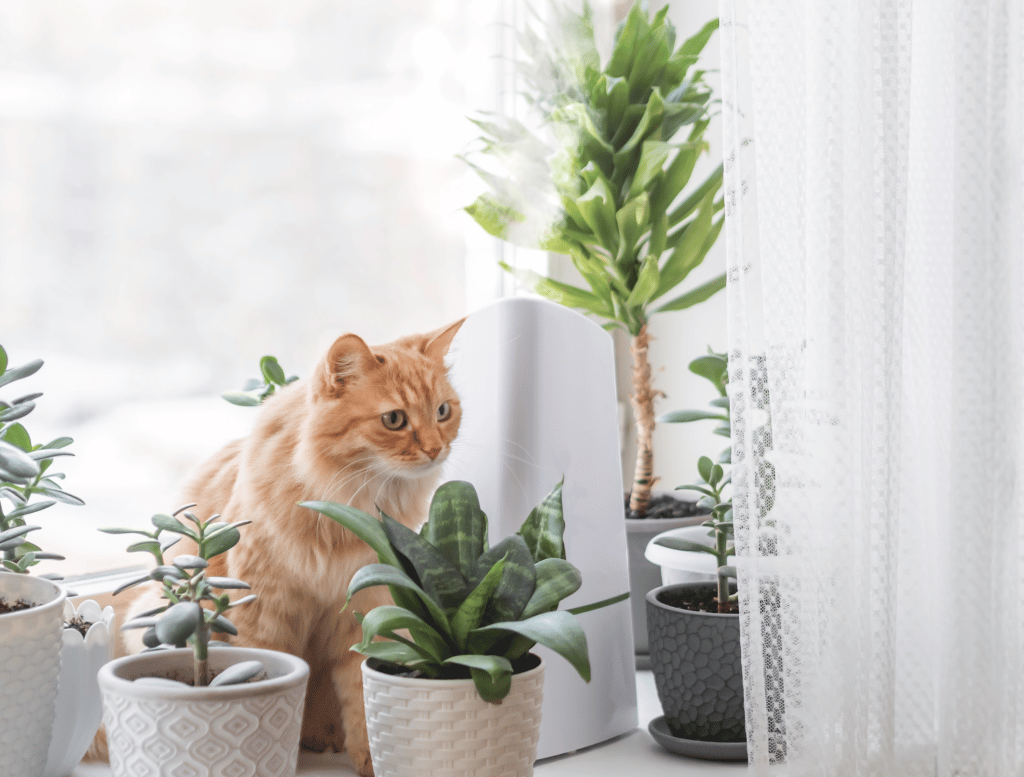 Plants That Are Safe for Cats
It is not just flowers that can pose a threat to cats but also plants. Houseplants cleanse the air we breathe from toxins found in many household products and they also make your house look pretty and stylish so many people like to have plants around
Here are some air-purifying plants that are also safe for cats:
Bamboo
Basil
Cilantro
Dill
Dwarf Date Palm
Lady Palm
Lemon Balm
Old Man Cactus
Painted Lady
Reed Palm
Rosemary
Sage
Spider Plant (Spider Ivy)
Venus Flytrap
Zebra Haworthia
What to Do If Your Cat Eats a Plant That Might Be Poisonous
It is important to call your vet immediately if you suspect that your cat might have eaten any part of a poisonous flower